Today Madonna posted herself performing Simon & Garfunkel's "The Sound of Silence" at her concert in London.
In the Instagram video description, pop diva thanked Eminem for his opinion on controlling the proliferation of weapon in the US.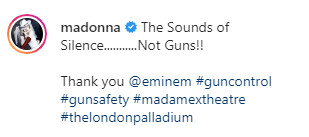 You might remember that earlier Eminem had released the video for "Darkness", which also propageted his views on the need for stricter gun control.