Жми СЮДА, чтобы зайти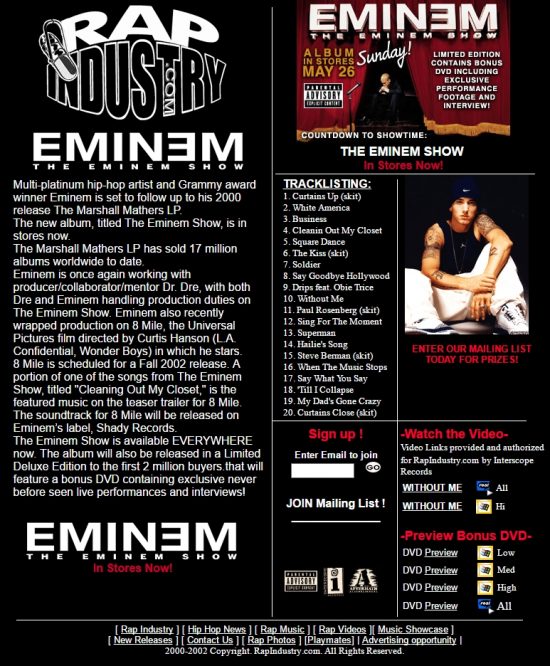 Multi-platinum hip-hop artist and Grammy award winner Eminem is set to follow up to his 2000 release The Marshall Mathers LP.
The new album, titled The Eminem Show, is in stores now.

The Marshall Mathers LP has sold 17 million albums worldwide to date.

Eminem is once again working with producer/collaborator/mentor Dr. Dre, with both Dre and Eminem handling production duties on The Eminem Show. Eminem also recently wrapped production on 8 Mile, the Universal Pictures film directed by Curtis Hanson (L.A. Confidential, Wonder Boys) in which he stars.

8 Mile is scheduled for a Fall 2002 release. A portion of one of the songs from The Eminem Show, titled «Cleaning Out My Closet,» is the featured music on the teaser trailer for 8 Mile.
The soundtrack for 8 Mile will be released on Eminem's label, Shady Records.

The Eminem Show is available EVERYWHERE now. The album will also be released in a Limited Deluxe Edition to the first 2 million buyers.that will feature a bonus DVD containing exclusive never before seen live performances and interviews!