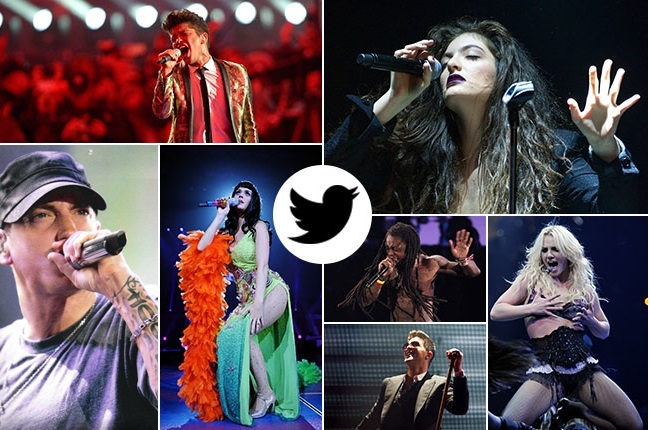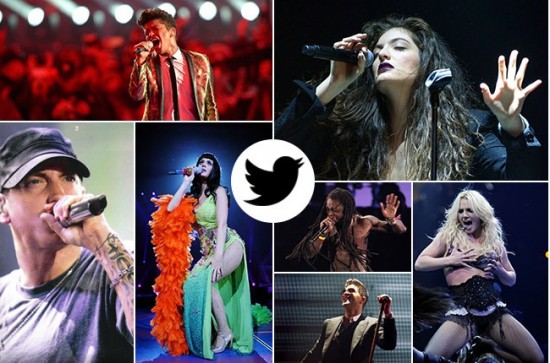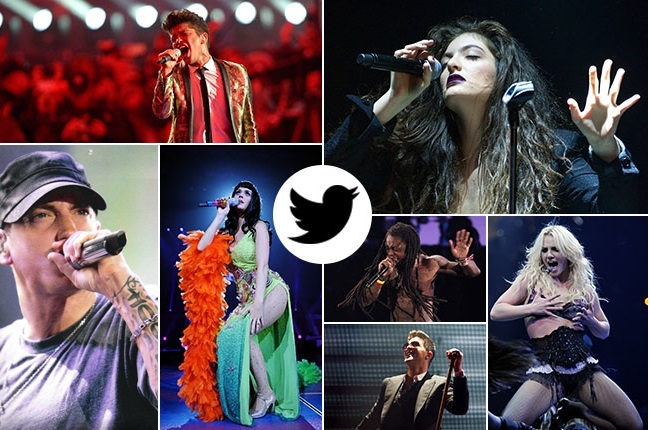 На днях на наш аккаунт в твиттере подписался 3500 читатель. Сейчас твиттер в России очень популярен, и с каждым годом его популярность растёт. А знаете ли Вы, что большинство звёзд, компаний, политиков имеют свой официальный аккаунт в твиттере? А знаете ли Вы, какой первый твитт написал, скажем, Eminem или Shady Records? Давайте выясним. Предлагаем почитать первые твитты самых известных деятелей шоубизнеса.
Кстати, не забудьте подписаться на наш аккаунта: @eminem_pro и официальный аккаунт Эминема — @Eminem
http://t.co/fqc5edSeHM — фан-проект посвящённых всему, что связано с личностью американского рэпера, @Eminem pic.twitter.com/iA7FZG1cYu

— Eminem Russia Fans (@Eminem_Pro) 23 Март 2014
World premier of Bad Meets Evil: http://tinyurl.com/bmefastlane

— Shady Records, Inc. (@ShadyRecords) 28 апреля 2011
Just got into Berlin… feeling better thank you, have my vicks inhaler by my bedside… and P.S. I TWITTTTER! GAH. Such a follower!

— Katy Perry (@katyperry) February 21, 2009
Ssup it's P and i am OTHER. I'd like to send my first tweet and thank everyone who has supported my vision and endeavors over the years.

— Pharrell Williams (@Pharrell) July 20, 2011
Welcome to the official Miley Cyrus «Gypsy Heart Tour» twitter page!!!

— Miley Ray Cyrus (@MileyCyrus) March 30, 2011
i think my fingernails are too short to be a member of the twittersphere

— Lorde (@lordemusic) November 22, 2012
Hey World, It's B! I'm so excited to invite you to my new http://t.co/fZxlrtAh — we've been working hard, and it's finally ready for you XO

— Beyoncé Knowles (@Beyonce) April 5, 2012
We Made You

— Marshall Mathers (@Eminem) March 21, 2009
The Wait Is Ova. Nov 23 09

— Rihanna (@rihanna) October 13, 2009
Hello everyone! from the One Direction boys. x

— One Direction (@onedirection) October 30, 2010
Check out my single «ONE TIME» on my myspace and spread the word for me. Thanks www.myspace.com/justinbieber

— Justin Bieber (@justinbieber) May 12, 2009
I was FINALLY convinced to get on Twitter! Follow me guys!

— Nicki Minaj (@NICKIMINAJ) April 27, 2009
dudewemustkikit.

— kesha (@KeshaRose) March 23, 2009
op rehearsing for my video just dance and am now at wmc to perform at the Armani and nervous records party. But I am no nervous record! …

— Lady Gaga (@ladygaga) March 27, 2008
I wish I didn't spontaneously burst into tears in people's studios. Highly embarrassing for them

— Ellie Goulding (@elliegoulding) May 27, 2009
I love! RT@justinbieber I posted it!!! My response VIDEO to @taylorswift13 with an EXCLUSIVE SONG from my album…ENJOY http://bit.ly/561XU

— Taylor Swift (@taylorswift13) October 25, 2008
Fine…you got me.

— Drizzy (@Drake) March 28, 2009
In The Studio With Far east Movement

— Bruno Mars (@BrunoMars) January 6, 2010
Hi guys! A little late in the game but I'm starting to figure out this whole twitter thing. Finally out of the studio for a week

— Shakira (@shakira) June 12, 2009
This is Hov… Ahmir! Half! Haa.

— Mr. Carter (@S_C_) November 22, 2008
Tennman Records released its first single today, Esmee Denters' «Outta Here». http://tinyurl.com/cs55pa. What do you think?

— Justin Timberlake (@jtimberlake) April 14, 2009
Welcome to Britney Spears' Twitter! Follow the latest in Britney news and get updates straight from Britney and her entourage.

— Britney Spears (@britneyspears) October 10, 2008
testing twitter out

— John Legend (@johnlegend) April 4, 2009
Подписывайтесь на наш аккаунт в твиттере и читайте новости об Эминеме и Shady Records на русском языке, раньше всех!